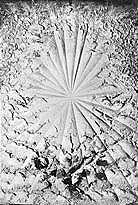 Jay DeFeo - The Rose
The Rose, 1958-1966,
oil with wood and mica on canvas,
1287/8 x 921/4 x 11 in. Frame: 1311/16 x 943/8 x 5 in.;
Collection Whitney Museum of American Art,
Gift of the Estate of Jay DeFeo and purchase with funds from the Contemporary Painting and Sculpture Committee and the Judith Rothschild Foundation.


Begun in 1958, The Rose was DeFeo's almost exclusive obsession for seven years. Composed of one ton of mostly white and gray paint that reaches depths of up to eight inches, The Rose is certainly one of the most dense and massive paintings ever made. Nevertheless, the work's sublimity lies precisely in the fact that, despite this sheer accumulation of matter, it exudes a profound sense of spaciousness and light.
Even before it was finished, The Rose had acquired legendary status: Dorothy Miller, curator at the Museum of Modern Art in New York, desperately wanted the work for her landmark exhibition Sixteen Americans (an exhibition which helped to launch the careers of Jasper Johns, Robert Rauschenberg, Ellsworth Kelly, Louise Nevelson, and Frank Stella), and Bruce Conner made a film, The White Rose, about the painting's removal- by forklift- from the artist's studio in 1965.
Bill Berkson has written eloquently of The Rose:
"...what distinguishes The Rose from other, kindred mandalalike images is its paradoxical palpitating meatiness. Taken at face value, the thing is imposing. At a glance, the sheer mass kicks into visibility of the kind to induce gulps in the unwary viewer, and its staying power- both as you look at it and as you call it to mind days afterward- is equally immense. It's that sort of head-on collision with ineffability locked into earthy stuff that had the intimates of DeFeo's process recalling the work, as George Herms did last year, as "the ultimate living being."